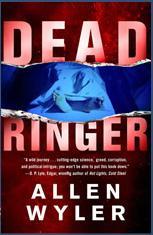 Blurb:
While speaking at a Hong Kong medical conference, neurosurgeon Dr. Lucas McCrae slips the cloth off a cadaver's head during a routine medical demonstration, and is overwhelmed with the shock by what's staring back at him: His best friend, Andy Baer.
Stunned, McCrae races back to Seattle to discover that Andy is in fact missing and may have been murdered by a gang of body snatchers who operate a legit funeral business and make a fortune by selling recovered body parts to medical researchers.
McCrae teams up with an unlikely pair—a beautiful but hard nosed female cop and a gang member whose family was victimized by the body parts ring—to try and expose a macabre web of corruption that involves law enforcement, politicians, funeral home curators and murdered prostitutes.
Internationally renowned neurosurgeon Allen Wyler takes us deep into a nightmarish scenario, shockingly ripped from recent headlines, and delivers a terrifically plausible, page-turning thriller.
My Review:
There is a constant need for dead bodies in the field of science all throughout the year. However, the rate of death is far less than the rate of demand for dead bodies. In such a circumstance, the rate of crime increases to generate the goods to match the rate of demand. For so long, it had been going unnoticed – and that is when someone comes across a known dead body by accident – and questions start to rise.
Dead Ringer is a thriller with a different concept of crime. The concept of crime goes to a different level and a different logic altogether. The story is nice but it could have been better. It felt a bit slow with not too much action, but only a lot of thoughts and planning. With a bit more of action, it could have been so much better.
The story does not start till almost 60% of the book. Till then, the characters are just speculating and throwing theories in the air. It is too much late in the book when the protagonist meets the detective and it goes somewhere forward. But by that time, the reader has lost interest and almost ready to quit. A bit on the passable side.
Check out the book at
Click to check out my Review Request form and Review Policy