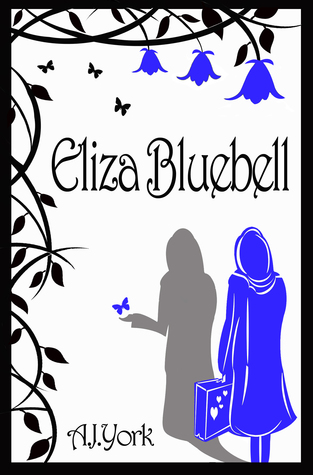 This review is added to the trailer of the Book on YouTube. Check it out here Book Trailer of "Eliza Bluebell" by A. J. York
Blurb:
In the picture postcard village of Blossom Brook, Eliza Bluebell arrives changing the lives of the locals forever. With the help of her playful shadow, Eliza transforms an empty shop on the High Street into the heart and soul of the village. Find out how and read this fantastical story about friendship, butterflies and fairy cakes.
This book entices the reader into a new and magical world that appeals to both kids and adults. The reader can explore how the ordinary in life can be extraordinarily overlooked, how friendship can help you overcome life's difficulties and how accepting yourself is the biggest challenge of all.
Reading this story is a truly magical and uplifting experience that should not be missed. Read it today!
My Review:
Eliza Bluebell is one of the most magical and beautiful book I have ever read. Right from the start of the book, there is a different feel to the characters, the settings, even the language. A certain happiness unfolds by just reading the book.
Eliza Bluebell is a magical girl, and her shadow is her friend. She comes to the small village of Blossom Brook and changes everyone's life with her small magic and also her cup cakes. Eliza's magic is a special one. The Magic is the love in Various relationships. She brings people together in her sweet way and thus, brings happiness to the town. The most important part about that magic is that by the end of the book, some part of the magic rubs on you as well.
The book is written keeping children in mind as focus audience, but it is suitable for all age groups. The story is subtle and sweet and anyone who reads it will fall in love with Eliza. AJ has created a wonderful magical story with Eliza. I am definitely looking forward to even more of her magic to be spread around us.
Check out the book at:
Click to check out my Review Request form and Review Policy